COPD, pneumonia, asthma and tuberculosis:
Impact:
Oral diseases, and specifically periodontal diseases have been linked with respiratory diseases like pneumonia, as per many studies and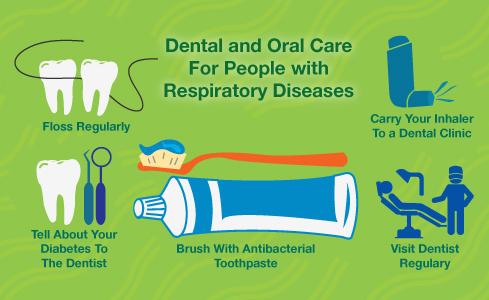 researches. First, the colonization of plaque by a particular type of bacteria, called gram negative bacteria is directly linked with increase in the risk of pneumonia. Another lung disease called COPD (Chronic obstructive pulmonary disease) has been linked with lack of oral hygiene, presence of plaque and bacteria.
Special care - some tips:
COPD and Pneumonia:
It is demonstrated in studies that large amount of respiratory pathogens in the oral cavity can promote respiratory diseases, such as pneumonia and COPD. Proper attention to oral hygiene, thus also protects from such lung diseases. Brushing regularly with an antibacterial toothpaste, regular flossing, inhibition of plaque and tartar formation in the mouth can play a role in healthy respiratory system also.
Asthma:
Apart from this care, one suffering from any respiratory disease already should make the dentist aware of any such condition. In case of asthma, many dental procedures may cause an asthma precipitation or attack. So, before any treatment or procedure, the dentist should be made aware of such a condition and the medication one is taking. One should also bring inhaler to a dental clinic, in case of any such untoward incident.
Tuberculosis:
A person with tuberculosis may develop painful sores in the mouth, and enlarged lymph nodes in the neck in response to the infection in the body. In case of such a sore, with persistent cough, one should get himself tested for TB. S/he should not visit a dental clinic in case tested positive, till it is controlled. Many people may get infected if any dental procedure is undertaken, because it may cause saliva droplets to spread.