Conditions & Diseases
Very often there are health issues that cannot be clearly classified under a specific medical specialty. The topics under this section include health issues of this kind. This section also explains symptoms related to different kinds of illnesses and diseases. The different medical specialties are also covered in this section.
Expert's Advice on Typhoid

Typhoid: Protection and purification of drinking water supplies, improvement of basic sanitation, and promotion of food hygiene are essential measures to interrupt transmission of typhoid fever. read more…
Expert's Advice on Insurance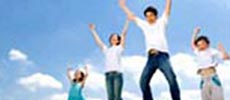 Insurance: It is certainly imperative to get one's life insured, not just for your sake, but also for the sake of the ones' you love as well. read more…




Records of published articles in the newspapers helps common people about precautions to be taken while seeking the services from health professionals and also helps health professionals to rectify the negligence.
read more…