First Aid for Cardiopulmonary Resuscitation
Details

Hits: 9228
What is CPR?
CPR is an abbreviation for cardiopulmonary resuscitation, a series of maneuvers to bring back to life a person whose heart has stopped beating. It is a combination of closed cardiac massage and mouth–to–mouth artificial respiration.
What is cardiac arrest?
Heart stoppage.
Can a patient ever be saved once the heart has stopped beating?
Yes. Although the majority of people whose heart has stopped beating do die, it is possible to save a considerable number of them if prompt Cardiopulmonary Resuscitation is instituted.
How soon after cardiac arrest must Cardiopulmonary Resuscitation be started?
It must be begun immediately. Unless Cardiopulmonary Resuscitation is instituted within a few minutes, the patient will succumb.
How can a first–aider know that CPR should be carried out?
He notes an unconscious patient.
He feels for a pulse in the neck and does not find it.
He listens with his ear over the heart and hears no beat.
He looks for respirations and finds none.
Is CPR indicated when there is a heartbeat but no obvious breathing?
No. In such cases only mouth–to–mouth artificial respiration is indicated.
Does the heart ever stop beating and respirations continue?
No. Once the heart stops, breathing stops.
Can anyone carry out CPR?
Yes, but it is much better if a trained person does it. Civilians are being trained all over the country in the techniques of this life saving procedure.

0
Expert's Advice on Poisoning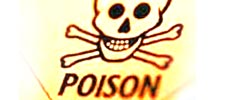 Poisoning: Call the nearest emergency health service in your area. Give them all the details, including the name of the poison or drug, if known, and the quantity you believe has been swallowed. read more…
Desk Exercises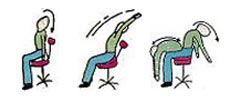 You could reduce stress, increase your endurance, and relieve stiffness by incorporating some of these safe tips and exercises into your daily work routine. read more…




Records of published articles in the newspapers helps common people about precautions to be taken while seeking the services from health professionals and also helps health professionals to rectify the negligence.
read more…