Times of India
29 July 2011
By, Pratibha Masand
Mumbai, India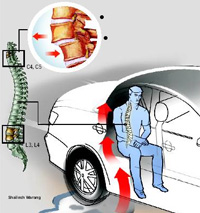 Back problems and slipped discs caused or aggravated by the city's abominable roads have become the bane of Mumbaikars' existence. Orthopaedics in public hospitals say that every day at least 10% of their patients are being treated for bad backs caused because they have to commute for long hours on pothole–ridden roads. "Of the 200 patients who come to us with various orthopaedic problems, at
least 20 suffer from some form of spine problem or the other because of travelling on bumpy roads every day to work," said Dr Pradeep Bhonsale, head of orthopaedic department in KEM Hospital.
Orthopaedics, gynaecologists and general practitioners have noticed a rise in the number of Mumbaikars complaining of moderate to severe back aches. The bad roads are a serious health concern as lakhs of people depend on them for their daily commute, say doctors. Should back ailments be listed as a monsoon ailment along with diseases like the common viral flu and malaria?
Dr Hemant Thacker, who consults in many south Mumbai hospitals, says every rainy season the number of back problem cases rises. "This year, too, we are seeing an increase in bad back cases which can be directly related to regular rides over potholed roads," said Thacker.
Angry motorists refuse to pay toll
Motorists from the city and the larger metropolitan region are expressing their anger at the poor condition of the roads by refusing to pay toll. Senior officers of Mumbai Entry Point Toll Ltd said that toll collections over the past two weeks have been hit by 4 to 5%.
Doctors caution pregnant women
Mumbai: It's not just the elderly, those with existing back problems, or pregnant women who have to be extra careful. The condition of our roads is so bad that even people who never felt a twinge of pain in their backs have begun to suffer from slipped discs.
Take the case of 36–year–old Savarna Raman who never had a history of back ailments. Last week, Raman, who lives in the western suburbs, went to Sujoy Hospital at Vile Parle complaining of severe back pain. At the time, the doctors treating her thought her pain was due to a swelling in the spine. But when they conducted a battery of tests, they were shocked to find that one of her discs had popped out of her spine after a long and bumpy ride in an autorickshaw.
"The disc between her L4 and L5 vertebrae had popped out. About 60% of it had come out of the spine alignment. We did an endoscopic discectomy on her, where we removed the portion of the disc that had slipped out," said Dr Samir Pilankar, a spine surgeon who also consults in BSES, Seven Hills and Cooper Hospitals at Andheri (W) and Vile Parle–all of which are in areas where the pothole menace is the most prominent.
Gynaecologists, too, are worried about their patients' well–being. Dr Rekha Daver, head of gynaecology at J J Hospital, said: "Among other things, we advise pregnant women, especially those in their third trimester to avoid long bumpy rides. In a normal pregnancy, women can work till the time they experience labour pains. But too many jerks or bumps while travelling can cause complications."
While a few city gynaecologists have noticed a rise in the number of premature births, they say there are no studies that directly link this phenomenon with bad roads. "We advise women in their third trimester to avoid travelling in autos and big vehicles, like buses. They should not be travelling on bad stretches especially during peak commuting hours," Daver added. But are there any good stretches of roads left in the city?
Women who are very close to their delivery dates have to take many precautions. "If a heavily pregnant woman travels on a very bad road, she may have a premature delivery, which can cause further complications," said Daver.
Those who have overcome back problems face the risk of a relapse. With the exception of trains, all other forms of public transport–taxis, autos and buses–cannot protect a person from the health hazards that are potholes, said Dr Pradeep Bhonsale. While on a road trip to Panvel, Sanjay Trivedi who had a 'stabilized back problem' suffered from a slipped disc for the second time in a span of a few years. The 54–yearold businessman has no choice but to take complete bed rest for at least a week before even considering resuming work.
Physicians say it's not just potholes that are to blame for Mumbaikar's back troubles. "Bad roads do have a direct impact and can cause backaches and injuries. But badly maintained roads are the reason behind traffic jams, which in turn cause high blood pressure, hyper acidity, stress, lack of rest and frayed tempers," said Dr Hemant Thacker.
Road Risk a Pain in The Neck and Back
Precautions
If you already have a bad back, a bumpy ride on Mumbai's potholeridden road can aggravate it. In extreme cases, it can cause a slipped disc Elderly people and those who use two–wheelers, too, are at risk of suffering from backaches


What Happens
Both the lumbar vertebrae (where the lower back begins) and the cervical vertebrae (which begin at the base of the skull) can be affected with continuous jolts due to bad roads A sudden or a series of continuous jerks may cause pain in the neck and shoulder. If your body is subjected to this every day, it may become a chronic problem In extreme cases, a person may suffer from vertebral compression fractures or round back deformity The C4 and the C5 cervical discs and the L3 and L4 lumbar discs are especially vulnerable since they face outwards
Advisory
Avoid travelling in autorickshaws or backseats of buses if you have a history of back problems Pregnant women who are close to labour should use private vehicles or taxis if the road is too bumpy If you use a motorbike, ride slowly and try to swerve around potholes Don't sit in front of the computer for hours on end Keep your posture straight and take adequate rest before and after a bumpy journey