Times of India
28 June 2011
By Durgesh Nandan Jha & Maria Akram
New Delhi, India
Now, Mosquito Breeding Checkers Threaten To Go On Strike From July 1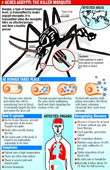 Mosquitoes seem to have stolen a march on the rains this year. Even before the monsoon set in on Sunday, the city had recorded five cases of dengue and 21 of malaria. Doctors and municipal officials said the intermittent rains and high humidity through the latter half of June had created ripe conditions for mosquito breeding.
Meanwhile, the MCD's dengue breeding checkers (DBCs) – who are supposed to check for breeding, and fumigate and spray larvicides in sensitive areas – have threatened to go on strike from July 1 to protest against the delay in disbursement of their salaries.
"The MCD has not paid salaries to us for over three months. The issue of regularising (jobs) is also long–pending," said Ashok Choudhary, general secretary of the DBC Association.
According to the Municipal Corporation of Delhi (MCD), last year only one case of dengue was reported till June–end. "The latest case of dengue has been reported from Moti Bagh area. A 21–year–old man admitted at Ram Manohar Lohia Hospital was diagnosed positive for the disease. His condition is stable," said Dr VK Monga, chairman of the MCD health committee.
Dr Monga said, compared to previous years there was certainly an increase in the number of cases and mosquito–breeding sites this time. "Close to 10,000 houses visited by DBCs were found positive for breeding in our recent surveys, apart from many offices and police stations. In all 13,753 legal notices have been issued for mosquitogenic (breeding–friendly) conditions, of which 4,479 notices were issued in the last two weeks," said Monga.
Dengue claimed eight lives and left 6,529 people ill last year. This year, for the first time, the civic body has decided to accept dengue cases found positive using the NS–1 antigen test – used by most private hospitals and nursing homes – and the numbers are certainly going to increase significantly on this account, said another MCD official.
He said, earlier, as per Central rules, only cases diagnosed positive for dengue through 'IgM capture Elisa test' were taken into account.
Dr Bir Singh, professor in the community medicine department of AIIMS, said that extreme care should be taken to check water stagnation in the locality or even inside houses. "During rains, many people stop using coolers but rainwater gets filled up in them. People should ensure that this water is removed.
Coolers are the most common ground for mosquito breeding, apart from other sources like flower vases," said Singh.
Regarding the DBCs' demands, Monga said the proposal to regularise their services, at least partly, was discussed but it did not materialise because the new recruitments would have caused an additional burden of about Rs 60 crore. "We are still trying to sort out the matter and to ensure that the work does not suffer at all," he said.