Times of india
14 November 2011
By Durgesh Nandan Jha
New Delhi India
Strict Monitoring By Schools, Parents Matters
DIABETES DAY
They've been stereotyped as couch potatoes, obese and susceptible to adulthood diseases like diabetes, but urban children are learning to fight back with awareness, self–control and a zeal for fitness.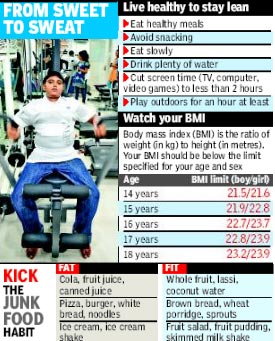 On Children's Day, which is also World Diabetes Day, TOI found a surprisig level of information about obesity and related disorders among schoolchildren. While stricter monitoring by schools and parents has led the change, children deserve credit for cutting their intake of burgers, pizza and aerated drinks, and adopting a more active routine. Anahat Singh, 10, who studies at KR Mangalam School in Vikaspuri, says he prefers milk with cornflakes, brown bread or bananas for breakfast. "I carry tiffin prepared by mom to school. Homemade food is healthiest. I have pizza and burgers also, but only on occasions like birthday parties," he adds. TV viewing time, he says, is now fixed at home because he has to go for theatre classes and tuitions.
"Diabetes sugar ki bimari hai (diabetes is a blood sugarrelated disorder) and obesity means being fat. Junk food causes both, we know that. Our school has weekly periods for exercise and outdoor activities and teachers also keep telling us about good food habits," says Varsha, a student of Kendriya Vidyalaya in Andrews Ganj.
According to Asha Rani Singh, who teaches science at Laxman Public School, children in the age group of 14–18 years are careful about what they eat. "They are more aware and ready to change. We just need to give them good options. Our school has restricted sale of aerated drinks and chips. We have introduced substitutes like milk products and different variants of Indian food items that have high nutrient value, like salads, upma and rajma chawal, which they like a lot," she says.
"You don't feed your child to make him He Man anymore. Healthy means having a normal diet, comprising the right amount of fat, protein etc," says Anuja Saxena, who has a one–year–old daughter.
Dr Nikhil Tandon, professor of endocrinology and metabolism at All India Institute of Medical Sciences (AIIMS), says up to 20% of the students in private schools suffer from obesity and related health problems, such as impaired glucose tolerance and abnormal cholesterol.
"Because there is no immediate health effect in case of childhood obesity, family and the society tend to ignore the warning signs. It's time we change our mindset. All schools can have special counseling on child health, which includes dietary habits," says Dr Seema Gulati, chief project officer (nutrition), Diabetes Foundation of India.
Dr Sujeet Jha, head of the department of endocrinology at Max Hospital, Saket says the government needs to undertake initiatives like advertising about good food choices on TV. "The diabetes screening programme started by the ministry is not going to yield results. We need to develop human resources and infrastructure to tackle the problem rather than going on assessing it forever," he says.
Dr Anoop Mishra, director of Department of Diabetes & Metabolic Diseases, Fortis Hospitals adds, "If we are able to tackle childhood obesity, half of all non–communicable diseases — diabetes, heart disease, kidney dysfunction and hypertension — can be avoided".