Times of India
21 November 2011
Ajmer India
Only awareness and precaution can control heart diseases in newborns. This was the conclusion of a two–day seminar here on Sunday organized by All India Academy of Paediatrics here.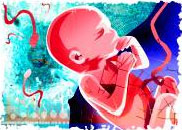 Specialists from various parts of the country presented research papers on heart diseases in newborns and called for efforts on early detection of symptoms among infants. "Mortality rates have certainly decreased among newborns as there is new technology to diagnose diseases early. Earlier, there were few ways to do that," said Anita Sexena, specialist from AIIMS, New Delhi.
Doctors also discussed chronic heart diseases and ways to decrease maternity deaths. "Our aim is to ensure healthy life of the newborn by providing the right medicines and treatment in time. The Janani Shishu Surakhsa Yojna is a step in that direction," said Achala Arya, head of department, JLN medical college.
Medicines given to children should not lead to adverse reactions in them, experts said. They are working on ways to detect heart problems in the womb itself, "These symptoms can be easily detected in the womb and treated immediately," said Anil Jain, senior paediatrician and convener of the seminar. He added that information on these new techniques and practices has been passed on to nurses and resident doctors so it reaches the common man.
The seminar was inaugurated by the director of Rajasthan Medical Services Corporation Samit Sharma. He asked the doctors to prescribe medicines which help patients and not just medicine companies. He emphasized more on generic medicines than on branded ones.