Times of India
16 November 2011
By Pushpa Narayan
Chennai India
Out of the total number of cases in the state, 17.4% of them were children against the national average of 9.97%
W h e n Shankari's parents first saw a tiny white spot on her hands some months ago, they ignored it. But when it spread to her legs, arms and face, they began to worry. The doctors too couldn't make an early diagnosis, but earlier this year specialists confirmed it as leprosy, a disease that has been known since biblical times.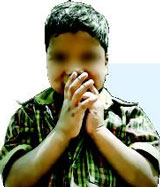 Leprosy or Hansen's Disease, health department officials say, isn't a plague of the past. Shankari is among the 3,295 cases being treated in the state for leprosy. Along with Shankari, 263 children are being treated for infection. Though the disease caused by the bacteria Mycobacterium leprae has largely disappeared, a 2008 report from the World Health Organization shows that of the 2.5 lakh people afflicted with
the disease around the world 1.37 lakh were from India.
Tamil Nadu is worse off. The state, whose health indicators have been relatively better than the national average for most ailments, hasn't managed to meet the same for leprosy, especially in children. Data available with the state's leprosy eradic at i o n p ro g r a m m e shows that in March 2003, 880 children under the age of 12 were treated for leprosy. Of the total number of cases then 1 7 . 4 % we re children , against the national average of 9.97%. In April 2010, 15.7% of leprosy
Tackling Stigma
patients were children. Between April and September this year, 2,312 new cases have been reported. Of these, 263 cases (11%) are children. "It's not even highly contagious. But despite a twodecade–old nationwide programme that offers free treatment, we have not been able to make the last push," said K Ramalingam, additional director, directorate of medical and rural health services. He is in charge of preventing leprosy in the state. The state runs 10 leprosy treatment centres, where patients get free food and housing.

A part of the problem lies in doctors failing to diagnose it correctly. Almost 60% of patients tell doctors that they don't have any contact with someone with leprosy. "Leprosy is endemic in India. Children have lower immunity and some of them can be affected even by travelling with an infected person or standing beside them. When a person sneezed or coughs, the nasal droplets enter the body and the person is infected," said Dr S Elango, former director of public health. "There are probably many more people waiting to be diagnosed. Unless we do a doorto–door survey, we may never pick up cases," he said.
Most of the population is naturally immune to the bacteria and once a patient begins treatment he/she ceases to be infectious. Yet, field workers say that they continue to see people hiding in their homes when they are spotted with a white or red patch on the skin. The stigma surrounding leprosy forces people to go to doctors only when the disease is at an advanced stage. "Stigma is one of the biggest challenges we face. Many times we find people, particularly migrant labourers, with white patches. When we ask them to come in for further tests or diagnosis, they disappear," said a Kancheepuram–based village health nurse, who preferred to be anonymous.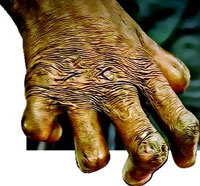 (Name of the patient has been changed)
Leprosy is
A bacterial infection that damages skin and the peripheral nervous system. Can cause serious limb deformities.
Caused by
bacteria Mycobacterium leprae. It grows only in certain human/animal cells. In India, the most common mode of transmission of the disease is human–to–human. Other species like chimpanzees, mangabey monkeys, and nine–banded armadillos can also be carriers.
Transmitted through
Personal contact via nasal secretions or droplets. Research suggests that droplets can affect others by entering breaks in the skin
Treated by
Antibiotics. Their dosages, and length of time of administration depends on the kind and severity of the disease. Commonly used drugs are dapsone, rifampicin and clofazimine. The antibiotics are given for at least six to 12 months or more.
National average of number of children in total number of leprosy cases in 9.97%, while TN average is 17.4%
WHO says that 2.5 lakh were being treated in 2008, of which 1.5 lakh were from India. Data available with the state's leprosy eradication programme shows that in March 2003, 880 children under the age of 12 were treated for leprosy. Of the total number of cases then 17.4% of them were children, against the national average of 9.97%. In April 2010, 15.7% of leprosy patients were children. Between April and September this year, 2,312 new cases have been reported. Of these, 263 cases