Times of India
25 April 2011
New Delhi, India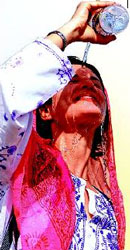 The OPDs in Delhi hospitals are going houseful. With the summer season having started, doctors say, the number of cases of temperature–related illnesses such as typhoid and gastroenteritis have gone up significantly. According to them, sudden exposure to the sun after being in an airconditioned environment must be avoided and people should increase fluid intake to avoid dehydration and illnesses associated with it.
"Food and water–borne diseases are a major problem. More than 50% patients visiting our hospital OPD these days are coming with problems like diarrhoea, gastroenteritis and food poisoning. Cases of jaundice have also increased," said Dr Sandeep Budhiraja, head of the internal medicine department of Max Hospital, Saket.
He said that people should drink a lot of water and avoid eating outside food. According to Dr Anoop Misra, chairman, the Centre of Excellence for Diabetes, Obesity, Metabolic Diseases and Endocrinology (Fortis–C–DOC) at Fortis hospitals, those suffering from hypertension, heart disease and diabetes need to be extra careful.
"Hot weather leads to decrease in blood pressure and change of medication is required in such patients. Heat leads to sweating and decrease in body sodium, which can affect people with hypertension and diabetes who are on diuretic drugs," said Misra.
He added that vomiting and nausea caused due to food and water–borne diseases lead to fluctuating blood pressure and sugar levels.
"For people with chest conditions heat leads to drying up of chest secretions which in turn may lead to more breathlessness and even infections," said Misra.
Dr Bir Singh, professor, department of community medicine at AIIMS, said that people who work and live in air–conditioned offices and homes most of the time should avoid sudden change in body temperature by exposing themselves to direct sunlight.
"Sudden change in body temperature can cause sore throat, body ache among others. Also, during summers many people tend to drink fruit juice sold by regular vendors who use ice prepared mostly from contaminated water. It should be strictly monitored," said the professor.
He said that intermittent rain can lead to water collection in open areas at home and even in public places.
"If this is not checked these places can be sources for mosquito breeding. Dengue, malaria, and chikungunya are likely to break in much earlier if necessary precautions are not taken," said Singh. The first case of dengue was reported in the city in March this year.
Heat stroke is one of the most serious heat–related illnesses. Doctors advise that people should drink plenty of water and in general avoid engaging in physical activity outdoors. Overexposure to UV rays can also cause sunburn, tanning, premature skin ageing and a decrease in immune system response and to avoid this one can use sunscreen lotions and wear shades.
People who spend a lot of time in the sun or are over 50 years of age, are more at risk of getting skin problems, said a doctor.
Healthy in Heat and it Doesn't Take Much
Summer is here again. Do make sure you do not expose yourself to these health hazards
Heat stroke
| It is the most serious heat related illness. Heat stroke occurs when the body is exposed to an excessive amount of heat and becomes unable to dissipate it through sweating. When heat stroke happens, the body's temperature rises rapidly, the body loses its ability to sweat, and it is unable to cool down. If emergency treatment is not provided, heat stroke can cause death or permanent disability
Prevention
| To prevent it always wear a hat and light clothing when you are in the sun. Drink plenty of water and in general avoid engaging in outdoor physical activities
Dehydration
| Dehydration can occur easily during summer due to excessive sweating, especially when you are physically active or exercising
Prevention
| Drink additional water in hot or humid weather. In case of excessive sweating, consume electrolyte water such that it replaces vital nutrients as well
Skin cancer
| Overexposure to ultraviolet (UV) radiation is 1 of the causes for skin cancer. These UV rays can also cause sunburn, tanning, premature skin aging & a decrease in immune system response. People who spent lots of time in the sun or are over 50 yrs of age, are more at risk of getting skin problems
Prevention
| Sudden change in body temperature should be avoided. 1 should put on sunscreen lotion, wear sun glasses while going out & try to avoid direct sunlight for a long time
Eye care
| UV rays will not only damage your skin but will also damage your eyes, leading to cataract and age–related macular degeneration
Prevention
| Don't forget to wear sunglasses that filter out 100% of UV light to protect your eyes
Headaches
| Bright sunshine & the heat can trigger headache. In a severe case it may also result in dizziness, nausea, muscle fatigue & vomiting
Prevention
| Remain hydrated & if symptoms occur, always take an over–the–counter medication
Food poisoning
| Higher temperatures during summer can cause bacteria to breed in food left out of the refrigerator, which can lead to food poisoning. Viruses and parasites can also lead to it. Food poisoning can cause nausea, cramps, vomiting, and even diarrhoea
Prevention
| Make sure you are consuming food that is hygienically prepared and wash your hands before eating. Also, avoid eating food from outside
Vector–borne diseases
| Dengue, malaria and chikungunya cases are common. Difference in the temperature during day and night is conducive for mosquito breeding, which is further aggravated due to intermittent rains and stagnation of water
Prevention
| Eliminate water that may have collected to reduce the number of mosquitoes around your home
Pool and swimming safety
| Swimming is a great activity in summer and helps you keep cool as well. But it is a potential source of waterborne diseases too. A no. of diseases can be contracted by playing or swimming in contaminated water
Prevention
| Don't swallow pool water or swim with an open cut. Do not swim in unsupervised areas and always shower after you climb out of the water