Children's Health
Child
Small people–Big feelings
Pre school children show very fast changes on physical, mental and social level. A preschooler's moods and feelings can be confusing. They show various moods from tears and tantrums to affectionate kisses and uncontrolled energy.
Here, at Aarogya we can help you understand your child better and deal with all the emotional ups and downs that your child goes through. Their hands and feet are adorably little. They wear small clothes, love tiny toys and have a favorite stuffed friend that is just the right size for them to cuddle.
But their feelings are so very big
Preschoolers (aged 2½ to 5 years) can have emotions that demand attention, support and resolution. They are intense, confusing, and surprisingly difficult. They cry suddenly and then are happy in no time. Get ready! You are about to dive into the rough and wonderful environment that is the emotional life of a preschooler.
Diaper Rash
Details

Hits: 15204
A form of contact dermatitis that causes skin irritation in the diaper area of infants, generally involves skin around the genitals, rectum and abdomen–in the area covered by diapers.
Signs and Symptoms of Diaper Rash
The skin in the diaper area becomes moist, painful, red, spotty and sometimes itchy. The skin may also be cracked and fissured. In male infants, a red, raw and occasionally bloody area may appear around the meatus (the opening at the tip of the penis).
Causes of Diaper Rash
Diaper Rash
Excessive ammonia (a natural product of urine) on the wet diaper and skin caused by bacterial action. Urine does not naturally contain ammonia. Monilial fungal infection.Allergy to soap, detergent, fabric softener, lotion, powder or other chemicals.
Risk Increases when
Hot, humid weather.
Infrequent change of diaper.
Improper laundering of diapers.
Family history of skin allergies.
Prevention of Diaper Rash
Change diapers frequently.
Do not use waterproof diapers at night.
Keep diapers clean. After washing, rinse them twice to remove detergents and other chemicals.
Diagnostic Measures for Diaper Rash
Observation of symptoms.
Medical history and physical examination by a doctor.
Urinalysis to rule out urinary–tract infection, which may complicate healing.
Possible Complication with Diaper Rash
Secondary bacterial infection in the rash area.
Treatment of Diaper Rash
Expose the buttocks to air as much as possible.
Change diapers frequently–even at night if the rash is extensive.
Don't use soap or boric acid to wash the rash area. Cleanse with cotton dipped in mineral oil.
Discontinue using baby lotion, powder, ointment or baby oil unless prescribed by your doctor.
Apply small amounts of non–prescription petroleum jelly, lanolin–based ointment or zinc oxide ointment to the rash at the earliest sign of diaper rash, and 2 or 3 times a day thereafter.
Add 1 cup of vinegar to the waterproof panties when it is half–full of rinse water. This neutralizes detergent residue.
Your doctor may prescribe medicated anti-inflammatory ointments or creams.
Diet
No specific diet. Avoid foods that cause diarrhea.
The following occurs during treatment
Fever.
Pustules in the rash area.
Male infant has a weak urinary stream.
Female infant develops adhesions of the vaginal lips.
New, unexplained symptoms develop.
Expert's Advice on Poisoning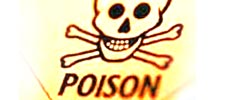 Poisoning: Call the nearest emergency health service in your area. Give them all the details, including the name of the poison or drug, if known, and the quantity you believe has been swallowed. read more…
Desk Exercises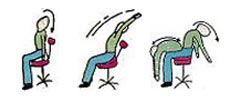 You could reduce stress, increase your endurance, and relieve stiffness by incorporating some of these safe tips and exercises into your daily work routine. read more…




Records of published articles in the newspapers helps common people about precautions to be taken while seeking the services from health professionals and also helps health professionals to rectify the negligence.
read more…